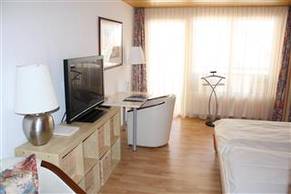 Davos,Switzerland

Direct on the lively main street of Davos, we house our guests in a modern hotel with 47 suites and 4 different restaurants.
A free shuttle service takes you from the hotel entrance directly to the cable car stations
Pool, sauna, solarium, whirlpool, radio, cable TV, mini bar…
An open air artificial ice arena and the famous Ice Palace (Home of the Spengler Cup) are right at our doorstep
On the promenade, live is pulsing with energy. Shopping, Cinema, Discos, Dancing, and the Jackpot at the Casino are all waiting for you.
The Kirchner-Museum and the congress center - with their truly original productions and concerts - are also located nearby.
Pamper yourself in our pool, sauna, and solarium.
ONLINE RESERVATION