Need a COMPUTER
The good soul of your IT

Our international network also provides you with endless opportunities in the area of information technology.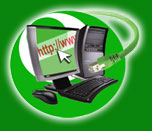 Thanks to our collaboration of small-scale enterprises in all sectors of IT services, we are able to offer our clients the ultimate all-round service. Always and everywhere in Europe. Whenever you need us, wherever you need us.

With our holistic organization you will receive the adequate solution, for any problem from our skilled experts with knowledge of the local conditions.